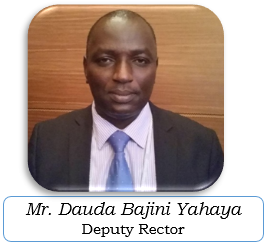 Brief Profile of the Deputy Rector:
The present Deputy Rector Mr. Dauda Bajini Yahaya was appointed in November, 2015. Among his various qualifications, he is a holder of the following academic qualifications:
M. Sc. Transport and Logistics
B. Sc. Physics
Airline Transport Pilot License (ATPL).
Professionally, he holds the following licenses/qualifications:
Licensed Flight Dispatcher
Licensed Ground Instructor
ICAO TRAIN AIR Plus Instructional Systems Design Specialist
ICAO Qualified Instructor (Training Instructor Course)
ICAO Instructional Systems Design (ISO) Validator
The current Deputy Rector was at various times in headship positions in the College. This includes:
 Head, Ground Studies Department                                 (2008 – 2012)
 Head, Course Development Unit [now ISDU]               (2006 – 2015)
 Head, Aviation Management School                                (2014 – 2015)
 Training Manager –                                                              (2015)
He is also a Chief Ground Instructor, Aviation Management Instructor and Training Technology Instructor. He currently serves as ICAO TRAINAIR Plus Focal Point of the College.
Introduction of office of Deputy Rector:
The Deputy Rector's office was established to assist the Rector/Chief Executive in supervising day-to-day training/activities of the College. The Deputy Rector is the Head of Training activities of the College. In addition, the following departments/units are under the office:
The five (5) Schools of the College;
The College Library;
The Training Aids Production Unit;
The Training Aids Maintenance Unit;
The Planning, Research and Statics Unit.
Vision of office of the Deputy Rector :
The vision of the office is to maintain high standards of training in the College, thereby producing skilled personnel for the Aviation Industry in the country and beyond.
Mission of office of the Deputy Rector:
The office aims to provide well trained (i.e. having skills, knowledge and attitude) aviation professionals that will ensure safety and efficiency in air transportation. This is in line with the College's status of: ICAO Regional Training Center for Excellence.
Details of Customers/Students:
NCA T's customers/students are mainly from the Federal Airports Authority of Nigeria (FAAN), Nigerian Civil Aviation Authority (NCAA), Nigerian Meteorological Agency (NIMET), Nigerian Airspace Management Agency, the Military, the Private Sector, African countries, Aviation Parastatals, Airlines, etc.