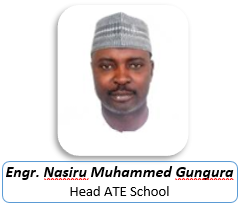 Brief Profile of the Head AMES:
Engr. Nasiru Muhammed Gungura is an experienced, astute professional and a holder of Aircraft Maintenance Engineer's License (A&P), a graduate of Mechanical Engineering from Ahmadu Bello University Zaria, holder of NCAT Diploma in Aircraft Airframe and Power plant Maintenance Engineering and numerous International qualifications, including the NDT and ICAO TIC 1&2.
So far in his Twenty-one years of Aviation experience, Engr. Nasiru M. Gungura has served in several capacities, including Head of Airframe Department, Head of Aviation Management School and presently Head of Aircraft Maintenance Engineering School. He is also one of the Chief Aircraft Maintenance Engineering Licensed Instructors.
In conclusion, Engr. Nasiru M. Gungura is a member of several associations such as Nigerian Society of Engineers, National Association of Aircraft Pilots and Engineers, Nigerian Society of Non-­Destructive Testing.
Introduction of Office of the Head AMES:
AME School was established in 1964, to provide manpower (in the field of aircraft maintenance) for the Aviation Industry, at affordable cost, driving growth and development.
The major areas of training are:
­(a) Aircraft Airframe Systems
(b) Aircraft Materials and related Sciences
(c) Aircraft Avionics and
(d) Power plant.
Vision of Office of the Head AMES:
To train and prepare manpower capable of providing professionally excellent aircraft maintenance services, second to non in Africa and beyond, contributing to the growth and development of Aviation.
Mission of the Head AMES Office:
To equip Aircraft Maintenance Engineers with the strongest foundational training, guaranteeing the skills, knowledge and attitude needed to excel in their respective careers.
Details of Customers/Students:
AME School has been privileged to provide training to
   NCAA
   AIB
  NEMA
  Customs
  Nigerian Police Nigerian Air force Presidential Air fleet Nigerian Navy
  Federal Ministry of Niger Delta State Government
  Local Government
  Airlines:
 Bristow Helicopters Aero Contractors Arik Airlines Caverton Helicopters Others
Departments:
Airframe Department
Aircraft Materials and Related Sciences
Avionics Department
Power plant